Charles Austen ET60 Air Blower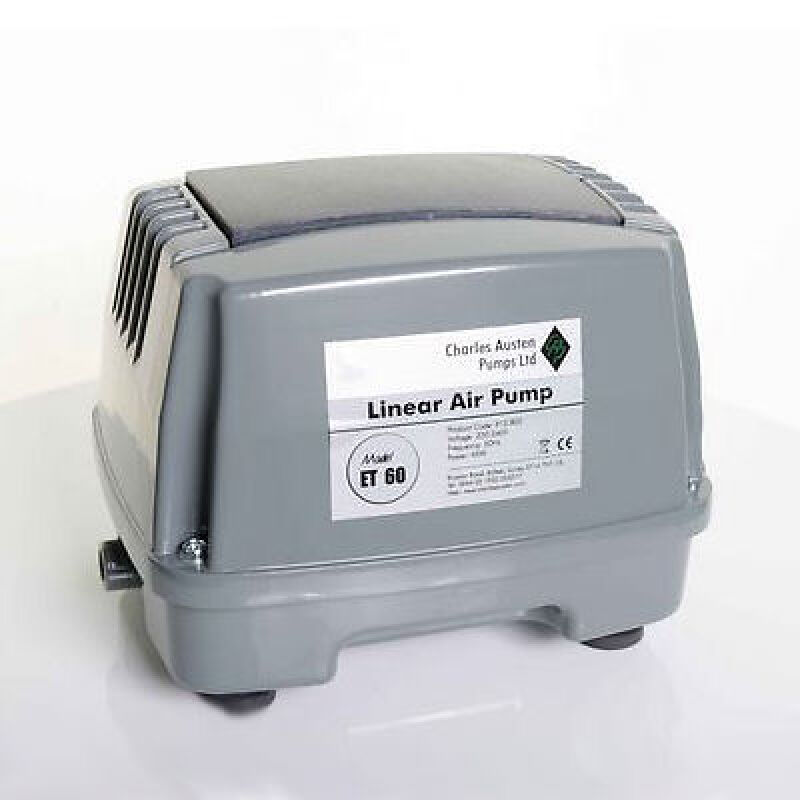 Description:
Charles Austen air compressors / blowers are ideal for sewage treatment systems, koi pond aeration and aquaculture, spa's and whirlpools,
The Charles Austen range are oil free linear diaphragm air compressors / blowers. Very quiet in operation with minimal vibration. It is supplied in a weatherproof housing.

Key Features
Green Drive Technology – energy efficient motors that don't lose performance
Whisper quiet operation – quietest linear pump in its class
Clever safety trip – stops the pump in event of a diaphragm failure avoiding damage to other parts
Extended service life – for both intermittent or continuous duty applications
Multi year warranty - CE and UL approved
ET = Unit only
ETA = Unit with Alarm
ETAO = Unit with alarm & 230V cable - for a beacon (beacon not included)
WE ALSO PROVIDE A RANGE OF FITTINGS, PIPE, etc
Please get in touch with us on 01948 840030 to discuss further.
Please note all images are for illustration only and may differ slightly from the actual product supplied.
Delivery & Lead Time:
Delivery to the UK Mainland but excludes Highlands and offshore locations.
Lead Time: 4-5 working days, subject to availability
If you need any assistance please contact us on 01948 840030 prior to purchase.
ET SERIES brochure.pdf ET SERIES brochure.pdf
Download