Underground Water Tanks - NON POTABLE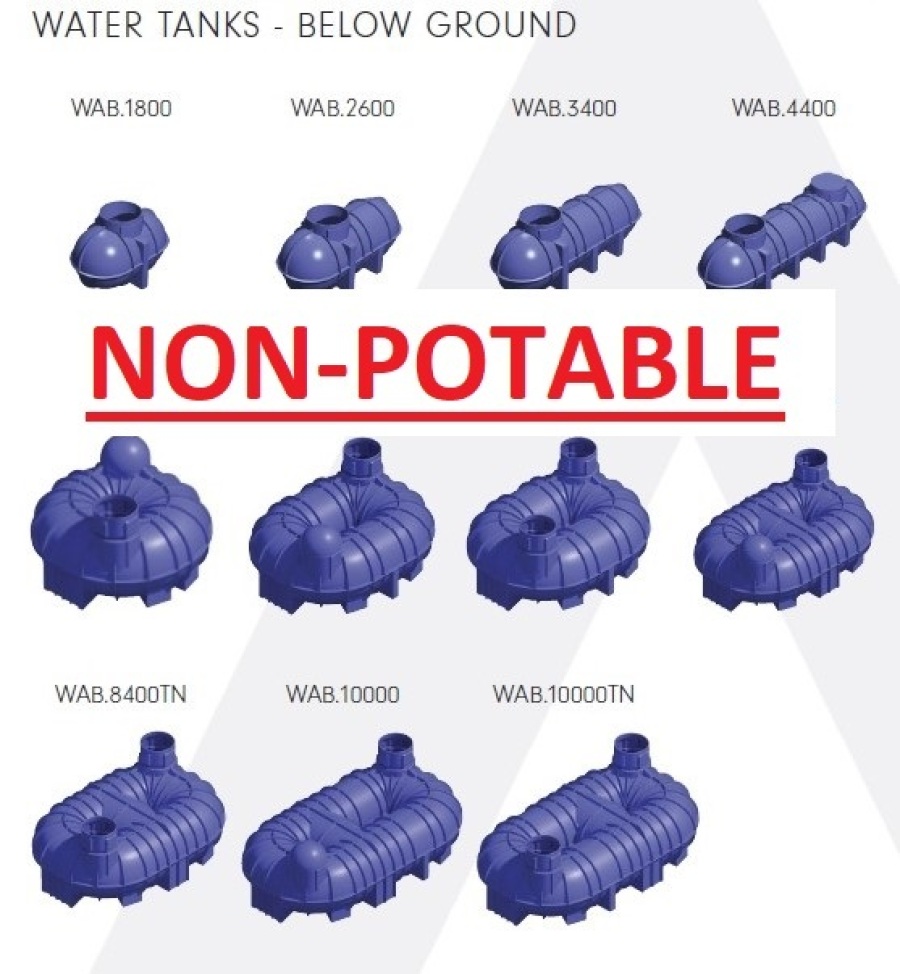 Underground Water Tanks - NON POTABLE
Free Shipping
Description:
The Underground Water Storage Tanks are suitable for both domestic and commercial applications, available in both non-potable or potable versions.
The tanks are mainly used for rainwater harvesting applications, but can also be used for water attenuation and storage of water from other sources such as wells and springs.
These robust water storage tanks are manufactured in the UK and are moulded from Polyethylene using a rotational moulding process which produces a stress-free product. Furthermore, there are many design features that make these tanks stand out. The high strength ribbed design allows for environmentally friendly pea-gravel back-fills which as a result eliminates the need for the high costs and difficulties of encasing a tank in concrete. The shallow-dig depth also makes them easier to install and maintain, as well as being ideal for areas with a high water table (certain installations may require further advice and an alternative installation method). The curved design allows more efficiency when using submersible pumps as it enables all the water, even from the bottom of the tank to be pumped out.
This range of tanks are amongst the most dependable in the market place and the industry leading warranty offers extra peace of mind. (See details below)
Compliance:
WRAS Approved Polymer (potable version)
More Info:
Twin neck option available on certain sizes (enabling more access into the tank)

Ribbed & curved design providing strength and efficiency

Shallow-dig design

600mm access point

Made in the UK
Equipment Options: EXTRA not included in tank price- see options in drop down menu
Telescopic Neck (this can be place on top of the existing turret on the tank to provide an extra 300mm – 800mm of depth if required)

Pedestrian Lid Cover (this lid is suitable for pedestrian use only)

Vehicle Lid Cover (this lid is suitable for vehicle use)
Installation:
Full installation instructions are below in the download section.
Delivery:
FREE delivery of this product includes the UK Mainland but excludes Highlands and offshore locations and is also subject to suitable access for a large goods vehicle. This product is delivered to the kerbside. It is the customers responsibility to provide suitable mechanical offloading facilities (eg. JCB excavator or loader) to offload this tank. If you need any assistance please contact us on 01948 840030 prior to purchase.
Lead Time: 5-7 working days, subject to availability
Warranty:
10 year warranty, each tank is provided with a warranty manual and you can register your gaurantee online.