Garden Economy Rainwater Harvesting System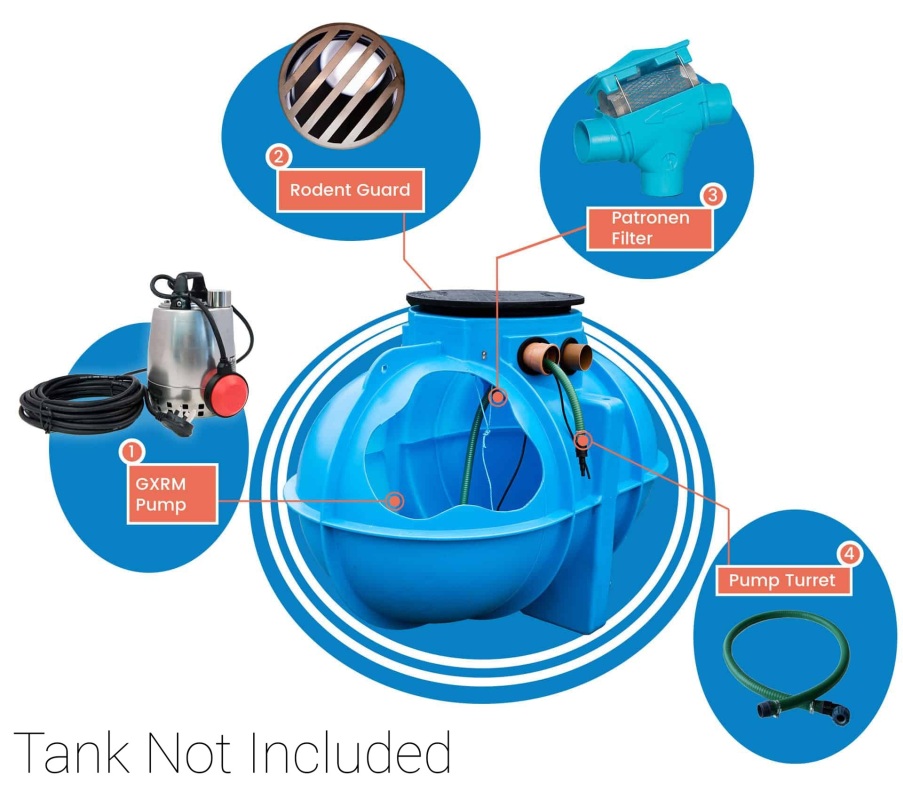 Description:
The Garden Economy Rainwater Harvesting System is our simplest form of system for the garden. It is ideal for use in gardens to feed hoses for car washing or general garden irrigation. The collected rainwater is held in the tank and pumped out to the application when needed.
Components:
GXRM Pump
The GXRM is a stainless steel, submersible water pump, it can sit on the bottom of a level tank and has enough power to service most garden-based water needs such as hoses and irrigation
2. Rodent Guard
This guard protects the internal water from rodents and large debris which could contaminate the water entering via the overflow
3. Patronen Filter
The PF filter is designed with a level drop, this along with its very smooth surface structure allows excess direct to be rinsed straight through into the sewer or overflow. The filter cartridge mesh is stainless steel within plastic housing and is self-cleaning, though regular inspection is recommended
4. Pump Turret
The 140 pump turret is a flexible plastic connection between the pump and access port allowing smooth flow of the pumped water out towards the application
Common Applications:
Garden irrigation
Cleaning the care
Washing windows
Power washing drive/patio
Outside tap and hosepipe
TANKS SOLD SEPARATELY.
WAB.GAR.E
SYSTEM NOT SOLD SEPARATELY.
Delivery:
FREE delivery of this product when ordered with a tank. Delivery includes the UK Mainland but excludes Highlands and offshore locations. This product is delivered to the kerbside. If you need any further assistance please contact us on 01948 840030 prior to purchase.
Lead Time: 5-7 working days, subject to availability
RWH-Systems-Manual.pdf RWH-Systems-Manual.pdf
Download