Garden Premium Rainwater Harvesting System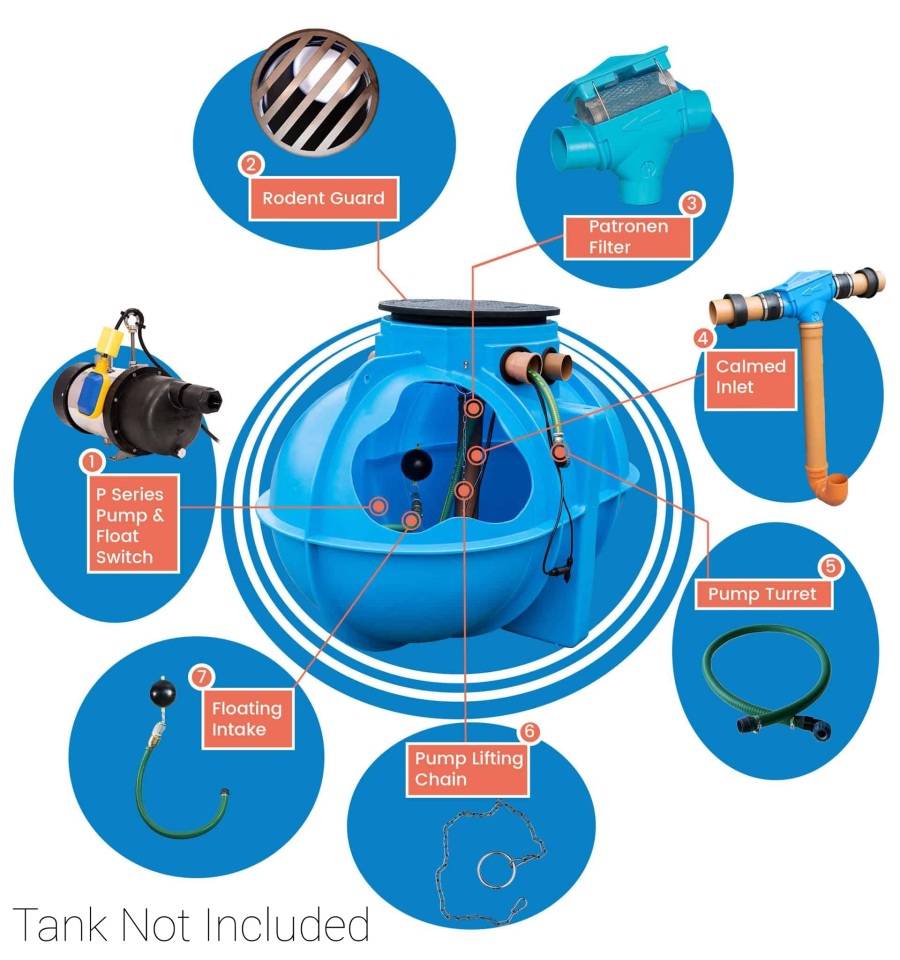 Description:
The Garden Premium Rainwater Harvesting System has all the features of the economy system but adds several extras to increase usability and efficiency. Among other accessories, the Garden Premium comes with a calmed inlet and a floating intake which means the water in the tank will stay fresher and cleaner than in the economy system. The premium also has a more powerful pump when compared to the economy system so will last longer and be able to cope with more demanding applications.
Components:
P Series Pump & Float Switch
P Series pumps are stainless steel pumps with plastic coverings and are suitable for domestic water systems, rainwater harvesting, tanks, surface irrigation and tank transfer. They combine with a float switch to help protect the pump from running dry.
2. Rodent Guard
This guard protects the internal water from rodents and large debris which could contaminate the water entering via the overflow
3. Patronen Filter
The PF filter is designed with a level drop, this along with its very smooth surface structure allows excess direct to be rinsed straight through into the sewer or overflow. The filter cartridge mesh is stainless steel within plastic housing and is self-cleaning, though regular inspection is recommended
4. Calmed Inlet
The calmed inlet removes the kinetic energy from the water as it enters the tank. This means that as the water enters it doesn't stir up the contents of the tank.
5. Pump Turret
The turret set provides the connection between the pump and the pipework leading to the various external applications. They are made from flexible plastic so can easily deal with the pressurised water coming from the pump.
6. Pump Lifting Chain
The pump lifting chain aids in servicing the pump as it allows the pump to be easily pulled up towards the top of the tank.
7. Floating Intake
A floating intake ensures that no water from either the bottom or the surface of the tank is taken in. Meaning only clean water passes through the system and is pumped into the household.
Common Applications:
Garden irrigation
Cleaning the care
Washing windows
Power washing drive/patio
Outside tap and hosepipe
Tanks Sold Separately.
WAB.GAR.P
SYSTEM NOT SOLD SEPARATELY.
Delivery:
FREE delivery of this product when ordered with a tank. Delivery includes the UK Mainland but excludes Highlands and offshore locations. This product is delivered to the kerbside. If you need any further assistance please contact us on 01948 840030 prior to purchase.
Lead Time: 5-7 working days, subject to availability
RWH-Systems-Manual.pdf RWH-Systems-Manual.pdf
Download